HDMI 2.1 matters if you're planning to invest in PlayStation 5 or Xbox Series X
www.flatpanelshd.com
fter CES 2020 there has been some confusion over HDMI 2.1 support in Sony 2020 TVs. Sony has now confirmed and clarified details relating to HDMI 2.1 ports and features to FlatpanelsHD.

As FlatpanelsHD reported from CES 2020, two of Sony's new LCD TV ranges for 2020 will feature an HDMI 2.1 port capable of receiving 4K at 120 frames per second (4K120) - and 8K60 for 8K TVs. These are the 8K Z8H (Z8H) and the 4K X900H (XH90) ranges.

Last year's Sony 8K Z9G (Z9G) will carry over into 2020 and also feature an HDMI 2.1 port for 4K120 and 8K60.

In addition, X900H (XH90) will be the first Sony TV to offer support for HDMI 2.1's VRR (Variable Refresh Rate) and ALLM (Auto Low Latency Mode). The former is variable refresh rate for smoother, lag-free gameplay via a PC or game console (must also support VRR). The latter allows the TV to automatically switch into 'Game' mode when it detects a game via HDMI. These features will be added through a future software update for X900H (XH90) only.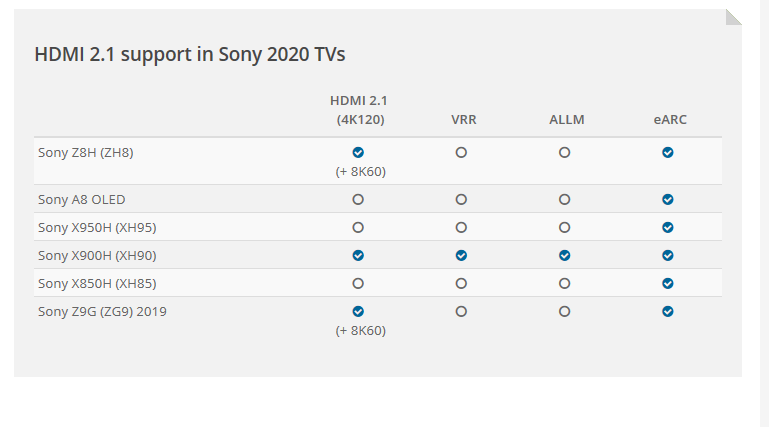 Bottom line if you want a Sony TV in 2020 thats take full advantage of next gen consoles, it's pretty much the 900H or bust.
This is a special level of stupidity from Sony.
It's like they are begging people to choose the LG X OLED series over the Sony TVs
Last edited: