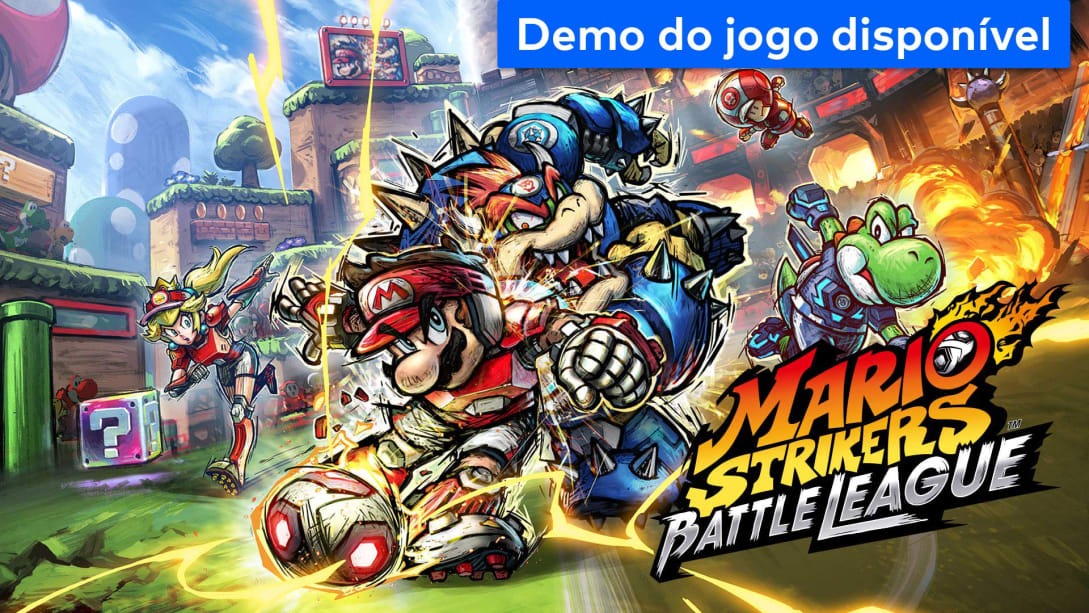 ---
Genre
: Soccer/Football, Multiplayer
Platforms
:
Media
:
Developer
:
Next Level Games
,
Nintendo Entertainment Planning & Development
Publisher
: Nintendo
Price
: 59.99$
Release Date
: June 10, 2022
More Info
: |
Wikipedia Page
---
Reviews Agregator:

Metacritic





OpenCritic
Reviews Roundup:

Nintendo Life - 90/100
Battle League is a masterclass in competitive game design. What it lacks in options is more than made up for by just how much fun the game is, and it's absolutely gorgeous to boot. As it stands it already feels like a complete product, but the promise of future updates down the line gives us even more to get excited about. If arcade sport action isn't your bag, it'll likely do nothing to sway your opinion, but if you have even a passing interest in this kind of caper, Mario Strikers: Battle League is the best sports game on Switch right now.
Nintenduo
- 81/100
Next Level Games has perfected the new Mario Strikers to feel fresher and funnier than ever, focusing on offline and online multiplayer modes. The original soundtracks aren't so good, although these little issues are not remarkable due to its cool art style.
Destructoid - 80/100
I was shocked that Mario Strikers: Battle League had this much going on under the surface.
Stevivor
- 75/100
Mario Strikers Battle League is a lot of fun, but unless you commit to online play, it's here for a good — but brief — time.
WellPlayed
- 70/100
Mario Strikers: Battle League Football excels on the field, but it struggles to make a compelling offer for solo players or anyone not willing to invest time in forming and maintaining a Strikers Club. It's just pick-up-and-play enough to work as a party game with mates and it's compelling to watch in action, but the lack of embellishments is sure to hurt its long-term appeal.
Gameblog.fr - 70/100
With a fiendishly fun formula, a production with the greatest of care, and more technical matches, Mario Strikers Battle League is the perfect game for intense parties with friends. Fun times, and mocking around between friends are guaranteed.
GAMINGbible - 60/100
The game's on-pitch rough and tumble makes it feel as much like Smash Bros. as a 'proper' football game, and slapstick animations help sell the bone-crunching tackles and electrified-fence frazzlings. But once you've the measure of the Mushroom Kingdom's idea of a kickabout, the only thing that'll really have you coming back to this is multiplayer.
Game Informer 7.5/10.0
Mario Strikers: Battle League may not be the ultimate version of the world's most popular sport, but its strategic matches, fun online modes, and energetic animations make for an enjoyable experience.
Wccftech 7.0/10.0
Mario Strikers: Battle League delivers the frantic fun the franchise is known for, but it feels like it's only fielding half a team. It's hard to overlook the missing characters, stadiums, modes, and mechanics from previous entries in the series, and new online modes and character customization options aren't fleshed out enough to make up for what's been left behind. Battle League will likely be worth it for hardcore fans with a good collection of friends to play with online or locally, but those hoping for more may find the game drifts just wide of the goalposts
Eurogamer No Recommendation/Blank
Mario Strikers returns with a stripped back entry for Switch that's ultimately less fun to tackle.
IGN 8.0/10.0
Mario Strikers: Battle League is an over-the-top soccer game that's wildly fun, even though it does very little new.
GameSpot 7
.0/10
Mario Strikers: Battle League has all the makings of a great sports game, but there's not much there right now.
Shacknews 7
.0/10
As it is, Mario Strikers: Battle League isn't the World Cup of Nintendo soccer that fans were probably hoping for. Instead, it's merely an average Sunday game that's playing on Univision: good for a few hours of entertainment and little more than that.
DigitalTrends 3/5
Mario Strikers: Battle League delivers the deepest Mario sports experience yet, with surprisingly nuanced soccer gameplay. There's just not much to do once you've mastered those skills.
VGC - 3/5 Stars
Review: Mario Strikers Battle League is a multiplayer marvel, but solo play is shallow.