https://augustafreepress.com/ps-plus-most-popular-gaming-service-in-the-us-with-41-reach/
chart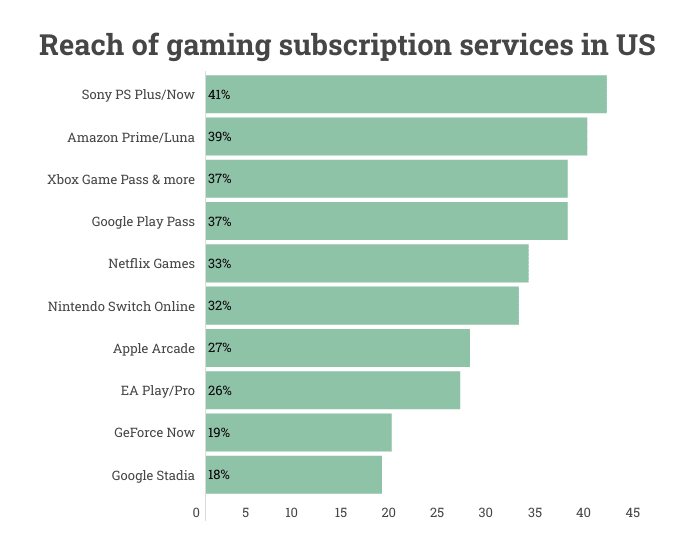 According to a recent survey from Statista, Sony's subscription service PS Plus is the most popular among US viewers. The survey, conducted in May, asked 1099 US video game subscribers whether they have spent money on various gaming subscription services during the past year.

41% of those surveyed said they had paid for PS Plus/PS Now. The second spot is occupied by Amazon Prime Gaming/Amazon Luna. 39% of gamers said they had used Amazon services during the past year. Luna is a cloud-based gaming service provided by Amazon in the United States. It was launched to the general public in 2021.

Microsoft is in the third spot for its collection of services such as Xbox/PC Game Pass and Xbox Live Gold. 37% of gamers surveyed said they had used one or more of these services during the past year. In the fourth spot, Google Play Pass was also used by 37% of the survey base during the past year.

Netflix Games completes the top five with a 33% reach among video game subscribers. Nintendo Switch Online is the least used service among services offered by three major console companies. The Nintendo service has a reach of only 32%.
Dang, Nvidia and Google dropped the ball big time. Outside of Play Pass, not sure what that is.
I think the most surprising thing here is Luna being number 2. I didn't think that was making in-roads but it seems it's bringing in more subscribers than previously thought. Nintendo is 6th and way below the other two core gaming manufactures to no ones surprise.
I think it's safe to say that Apple Arcade was a failure, so that guy who made the "if Apple enters is Nintendo doomed" thread must be rethinking his position right now, Apple Arcade isn't getting the subscribers people were expecting, and Apple poured a lot of money into the program.
In comparison, Netflix shot up really quickly. People thought that was DOA but it turns out they managed to get peoples attention after all and have gained quite a following.