Dec 1, 2014
31,350
39,415
1,415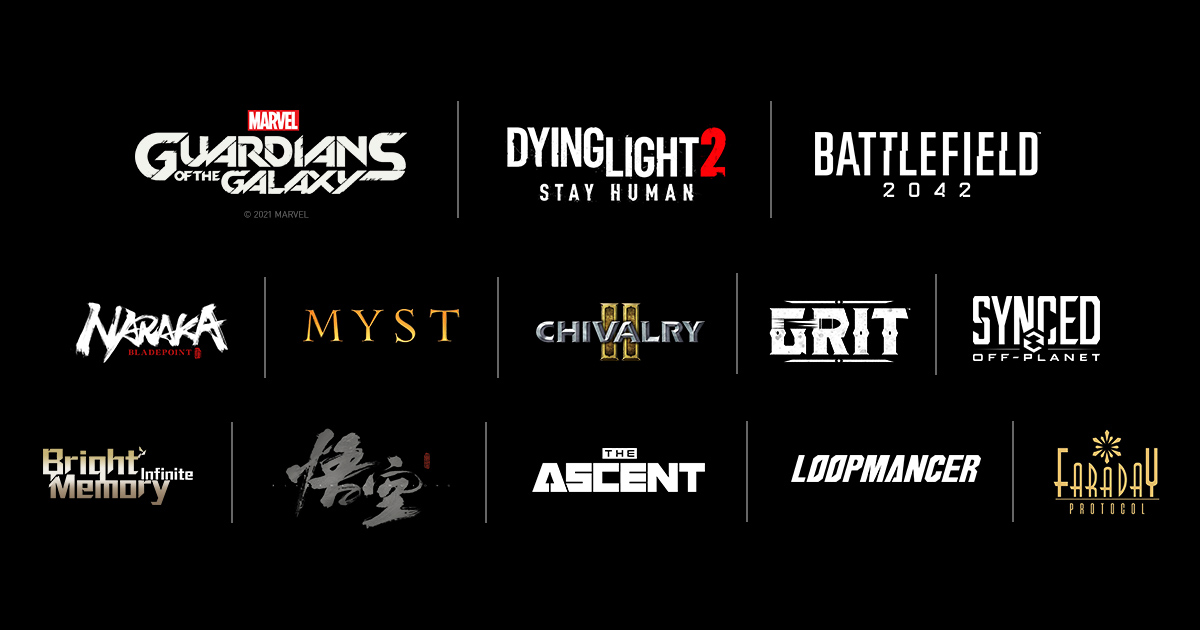 DLSS, ray tracing, and other technologies are available in over 130 games and apps, and are also coming to Battlefield 2042, Black Myth: Wukong, Bright Memory: Infinite, Chivalry 2, Dying Light 2 Stay Human, Faraday Protocol, GRIT, Loopmancer, Marvel's Guardians of the Galaxy, Myst, Naraka...
Each month
, our development partners release new games with DLSS, ray tracing and Reflex, and RTX updates for already-available titles. This month is no different, and at this week's virtual
Gamescom 2021
, we're showcasing 13 games that are launching with RTX technologies, or are adding these game-changing features in the near future.
These include
Battlefield 2042
,
Dying Light 2 Stay Human
,
Marvel's Guardians of the Galaxy
,
Black Myth: Wukong
,
Bright Memory: Infinite
,
Chivalry 2
,
Faraday Protocol
,
GRIT
,
Loopmancer
,
Myst
,
Naraka: Bladepoint
,
SYNCED: Off-Planet
, and
The Ascent
. To learn more about the enhancements coming to these popular games, keep on reading.
Marvel's Guardians of the Galaxy Launching With NVIDIA DLSS and Ray Tracing​
Today, we announced that when
Marvel's Guardians of the Galaxy
launches on October 26, the PC version will launch with ray-traced reflections and NVIDIA DLSS, giving GeForce RTX gamers the definitive PC experience.
Developed by Eidos-Montréal in collaboration with Marvel Entertainment, this original take on the fan-favorite Guardians of the Galaxy will take players on a journey throughout the cosmos.
Playing as Star-Lord, the self-proclaimed leader of the Guardians of the Galaxy, you will blast your way from one explosive situation to another and call-on the unique abilities of each Guardian to save the universe from some seriously overpowered, evil beings. Luckily, you've got each other, and sometimes that's all you need! You got this. Probably…?
Check out this exclusive new cutscene from the game, captured on PC at 4K, with a GeForce RTX 3080:
"
Marvel's Guardians of the Galaxy
combines original storytelling and electrifying single-player gameplay with an edgy aesthetic. With the addition of ray tracing and NVIDIA DLSS, PC players will enjoy this stunning universe's visuals with even higher performance."
- Olivier Proulx, Senior Producer, Eidos-Montréal
If you lack a GeForce RTX PC or laptop, or are away from your gaming system, you can play RTX-enhanced
Marvel's Guardians of the Galaxy
at release via GeForce NOW, our cloud gaming service. GeForce NOW gives your low-end rig the power to stream
Marvel's Guardians of the Galaxy
with RTX ON. Keep your progress as you blast from one device to another, seamlessly, streaming from the cloud. And instantly play your existing PC library from stores like Steam and the Epic Games Store.
For a first look at the GeForce RTX technology coming to
Marvel's Guardians of the Galaxy
, stay tuned to
GeForce.com
.
Dying Light 2 Stay Human Launches December With NVIDIA DLSS and Several Ray-Traced Effects​
Techland's
Dying Light
was a hit back in 2015, enthralling players with its fluid parkour movement in a big, zombie-filled open world, all of which was playable with up to four people in co-op. This December, the long-awaited sequel launches, taking players to 'The City', one of the last remaining refuges of humanity, over two decades later. You're an unusually-talented wanderer, who traveled to The City haunted by his own memories. The path and allies you choose will be entirely up to you. These decisions will have game-changing ramifications.
To once again craft an amazing PC edition, following our work on the original game, NVIDIA's partnered with developer Techland to bring GeForce RTX technology to
Dying Light 2 Stay Human
.
Get an exclusive first look in the exclusive video below:
"Our partnership with NVIDIA has helped us create an immersive, visceral experience for Dying Light 2 players. Ray tracing enhances the realism of our unforgiving, infected world while NVIDIA DLSS provides a massive performance boost without sacrificing image quality, so you'll never miss a beat traversing the landscape."
- Tomasz Szałkowski, Rendering Director, Techland
Dying Light 2 Stay Human
features a dynamic day-night cycle - using ray tracing, Techland can accurately update the appearance of the world every second, delivering unprecedented image quality. Ray-traced Global Illumination brings incredible bounced lighting to every area of the world, ray-traced shadows with pixel-perfect detail update accordingly, and ray-traced reflections add dynamic detail to suitably-reflective surfaces throughout The City.
You'll also be able to play
Dying Light 2 Stay Human
later this year, with RTX ON on GeForce NOW. Both the
Steam
and
Epic Games Store
versions will be streaming at launch.
For more on
Dying Light 2 Stay Human
's GeForce RTX enhancements, stay locked to
GeForce.com
in the months to come.
Battlefield 2042: Enhanced With NVIDIA DLSS and NVIDIA Reflex. And Now, Bundled With GeForce RTX Desktops and Laptops​
Battlefield 2042
launches October 22nd, taking players to near-future conflict zones where extreme weather is just as deadly as the enemy. For the PC edition,
NVIDIA GeForce RTX is the official graphics platform partner
, ensuring a brilliant
Battlefield 2042
experience.
Playing
Battlefield 2042
on a GeForce RTX graphics card or laptop, you can enhance every moment of gameplay with NVIDIA DLSS and NVIDIA Reflex making this the ultimate competitive experience.
To celebrate the addition of these amazing, experience-improving technologies, we're
bundling Battlefield 2042
with select GeForce RTX desktops and laptops for a limited time. For all the details, head on over to our
bundle announcement article
.
Last edited: