All Copied From Source:
https://tech4gamers.com/xqc-claims-to-play-gta-6/
Twitch Streamer "xQc" who previously
accidentally leaked Overwatch 2
Loading Screen now claims he has played GTA 6. xQc is the biggest streamer on Twitch currently in terms of GTA RP popularity, also has
1.2 Million Twitter Followers and 10.1 Million Twitch Followers.
It all started when xQc was just talking to his viewers normally, and he mentioned that he has recently tried a game that is under testing, and he is not allowed to talk about it. The chat started to blow up, and the chat started asking more questions which led to a few minutes of xQc resisting to talk about it. After which, he implies an NDA commitment, so he can not speak more about it.
Shortly after, xQc claims that he does not care about the NDA, "fuck NDA" and he was one of the testers of GTA 6 online, and he was able to test the game out. He claims that the game is already well-developed and felt finished.
"I was playing Grand theft Auto 6 online, and I m just gonna say how it is; the game is already finished developing" –
xQc
​
He later then talks about how there are dedicated Roleplay servers for GTA 6, and there are a lot of advanced roleplay mechanics and options in the game.
"They are not gonna let roleplay be on FiveM; they have their own roleplay servers with advanced real-life roleplay mechanics, it is the advanced roleplay system of all time" – xQc
Later, this information was posted by a user called "
Zimited
" on Reddit, who claims that he was banned from other GTA forums for posting this information. The original twitch clip and video are already deleted.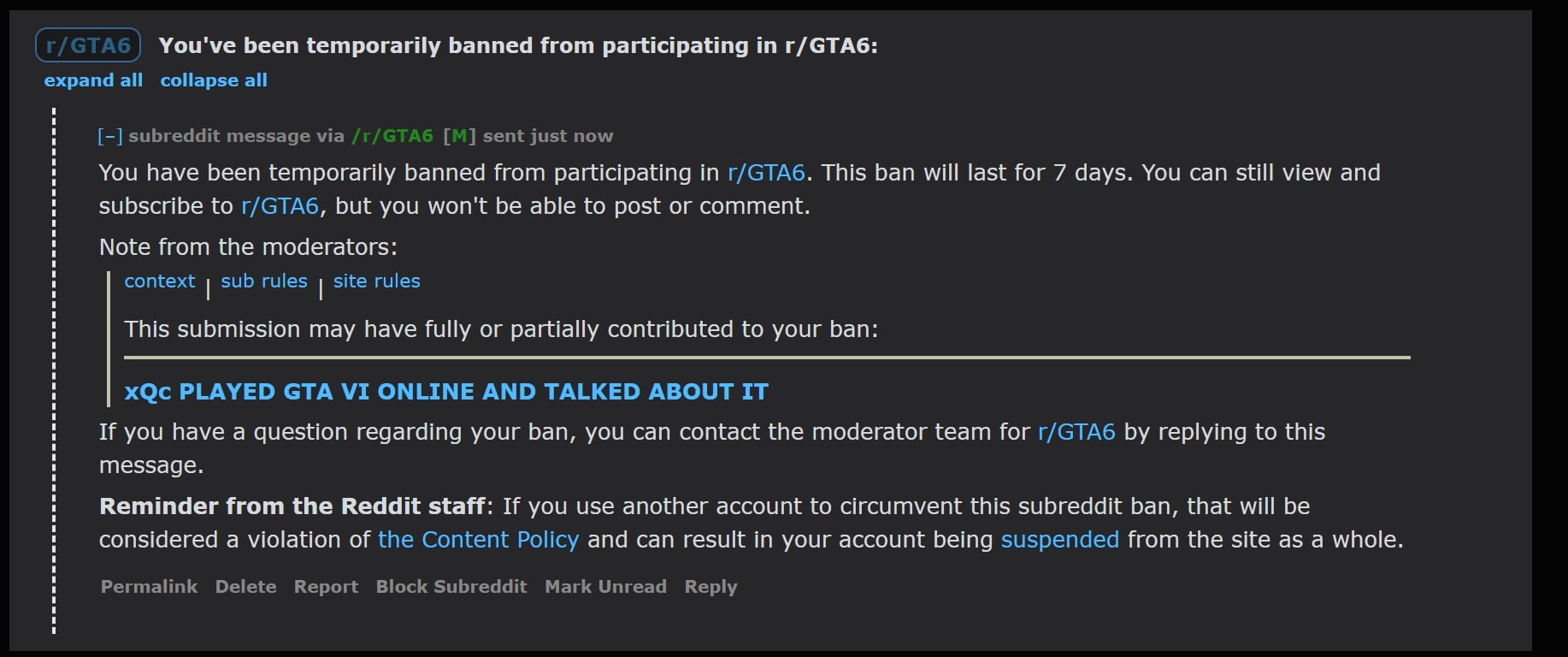 Zimited "I've been temporarily banned from the
r/GTA6
forum for posting the links there, which somewhat implies that rockstar has a part in administrating it since I'd personally expect mods of a "leak" forum to embrace new information, as there are no rules against it. And when I posted on GTA V, I had significant negative feedback and eerie attempts to shoot down the validity of the post. It might be normal people, but I wouldn't be surprised if Rockstar is making sure the thread doesn't blow up by shooting down any expansion with negative feedback and dislike bombing. Which is how I would personally stop any leaks from going out if I had a lot of resources"
If it is true, this latest news could confirm
Michael Pachter
implying about how GTA 6 has been in development since 2014 and Rockstar has been working on perfecting it for years now.