THE KING OF FIGHTERS '98 ULTIMATE MATCH FINAL EDITION COMMUNITY BETA TEST
KOF '98 ULTIMATE MATCH FINAL EDITION ROLLBACK BETA TEST!
IT ALL BEGAN IN '94.
KEPT ON ROLLIN' IN '95.
PIECES FELL IN PLACE IN '96.
IT CAME TO THE END IN '97.
AND NOW IT COMES AND HERE WE GO.
THE KOF IS HERE AGAIN.
NOTHING'S GONNA STOP IT'S 1998.
"From KOF '98 UM FE opening demo"
Ah, 1998. Many argue it was the golden age. And right there amongst all the legendary titles released during that period, SNK launched what became to be known as the KOF of all KOFs. Then, 10 years later in 2008, SNK built upon this already-massive game with THE KING OF FIGHTERS '98 ULTIMATE MATCH which added more characters, refined graphics and game balances, and added the new "Ultimate Mode" combat style. Finally, in 2014, SNK launched THE KING OF FIGHTERS '98 ULTIMATE MATCH FINAL EDITION, which featured more balance changes, new game modes, and a PC port. Fans thought that was it for updates, but SNK wasn't done just yet…
We are proud to announce a community beta test for THE KING OF FIGHTERS '98 ULTIMATE MATCH FINAL EDITION. That's right, your favorite game is getting that rollback treatment, but important, vigorous testing is necessary before we release it to the public. Just like past tests for other SNK ports (KOF2002UM, The Last Blade 2, etc.) this test will also be exclusive to 64 bit systems.
The beta test period will start from:
OCT 19th at 6PM PDT
and ends at
OCT 29th at 6PM PDT
Please help us in giving KOF98UMFE the best netcode it deserves.
…
…You still here?
Yeah, you knew better than to think that was it. There's one last thing we forgot to mention.
We've spectated that many have been lobbying for more updates, and so we have another test prepared in the future. Thank you for your continued support and get ready for a real slugfest.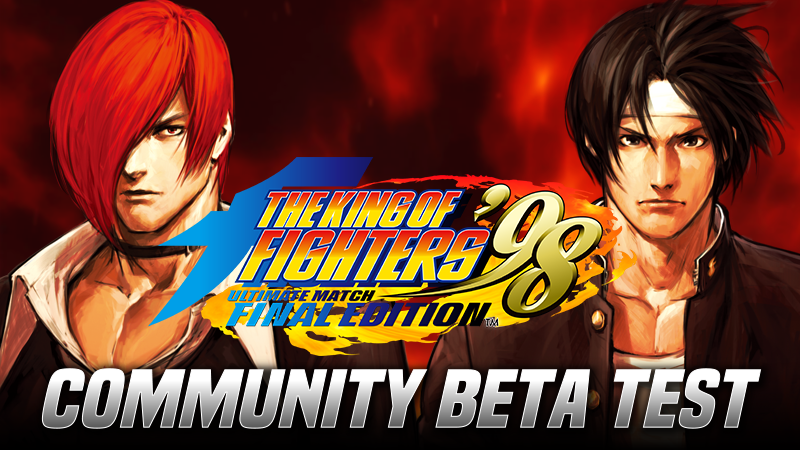 KOF '98 ULTIMATE MATCH FINAL EDITION ROLLBACK BETA TEST! The beta test period will start from OCT 19th at 6PM PDT and ends at OCT 29th at 6PM PDT store.steampowered.com