Current Event
Splatfest
Who would be the best leader? (Shiver vs. Frye vs. Big Man)
8th
/
9th
July -
10th
/
11th
July -
JP 9:00 Aus 10:00 GMT 0:00
PT 17:00
(previous day)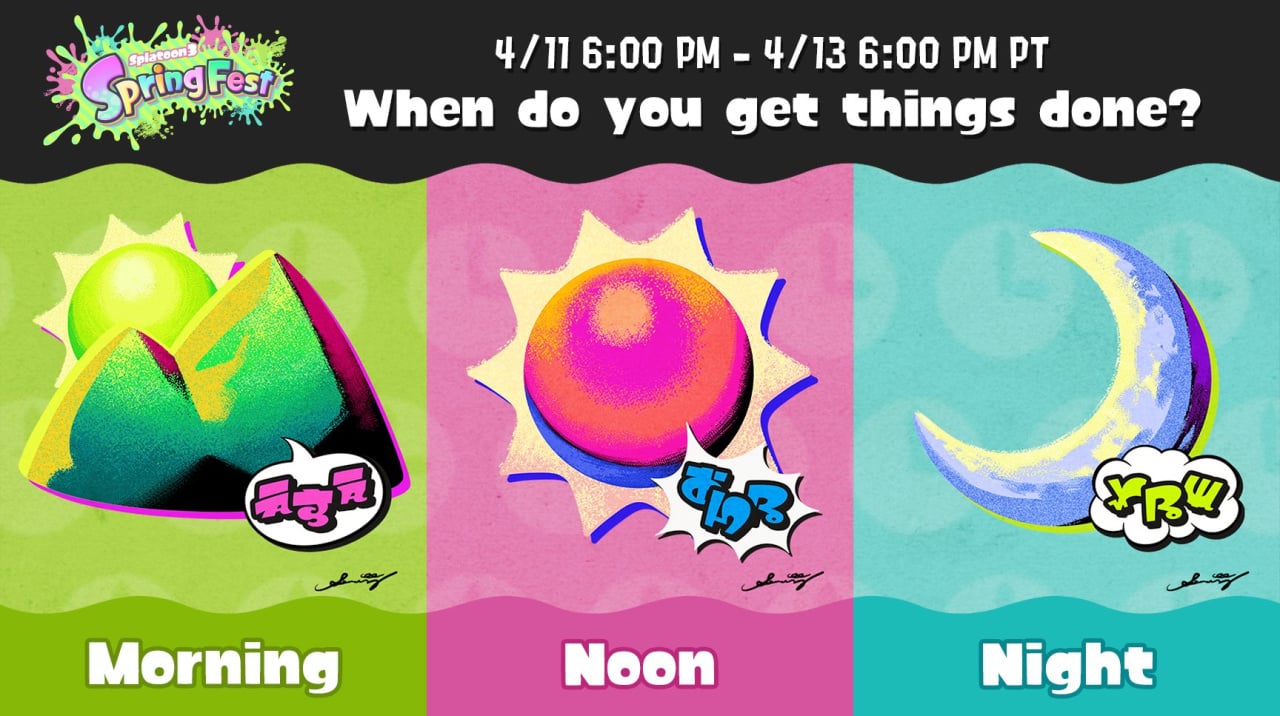 Don't forget to get your conch shells!

You can earn conch shells in the week leading up to the Splatfest. You earn conch shells by levelling up your catalogue.
You can do this by playing any mode (battles or Salmon Run). The winning team is the team that gets most conch shells, and gets 10p for the Splatfest.
You need to choose a team first.
Splatfest Basics
There was a 'Sneak Peek' that was based on the number of collected Conch Shells. Team Fun won. It is not clear if this will be done for future Splatfests.
Splatfests are Turf War only.
There are 'Open' and 'Pro' battles

'Open' allows for teams and you can stay on the same team.
'Pro' is solo only and teams are mixed after each match.

The points you earn for your team are called 'Cloat'

You gain Cloat even if you lose in Open Battle
You only gain Clout if you win in Pro Battle

The winning team of 'Open' gets 15 points.
The winning team of 'Pro' gets 10 points.
At half-time, the currently winning team may get put into Tricolor Turf War matches (4v2v2).
There are x10, x100, and x333 matches.

You can increase your chances of getting into these matches by winning them.

Winning these matches gives you a Festival Shell - the more you have; the greater your chance of getting a bonus match.
First Expansion Pass announced! Inkopolis/Side Order
Price: 3,000円/£22.49/$24.99

Contents:

Inkopolis
Option to go to the previous games' hub world, including during events.
Releasing this spring.
Paid DLC.
Part 1 of 2.
Side Order
??? - seems to be something to do with the Octolings...

Releasing this summer.

Paid DLC

Part 2 of 2.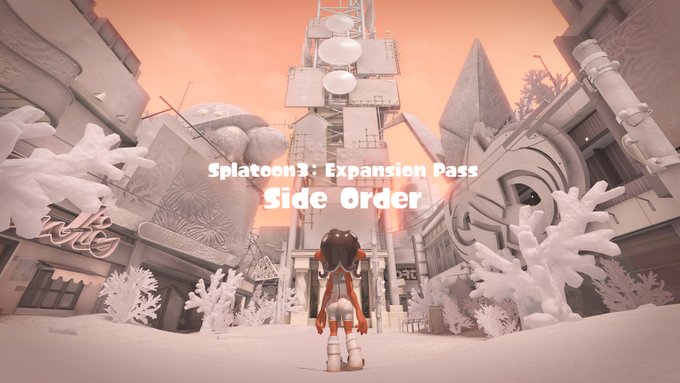 ---
Which flavour of ice cream is the best?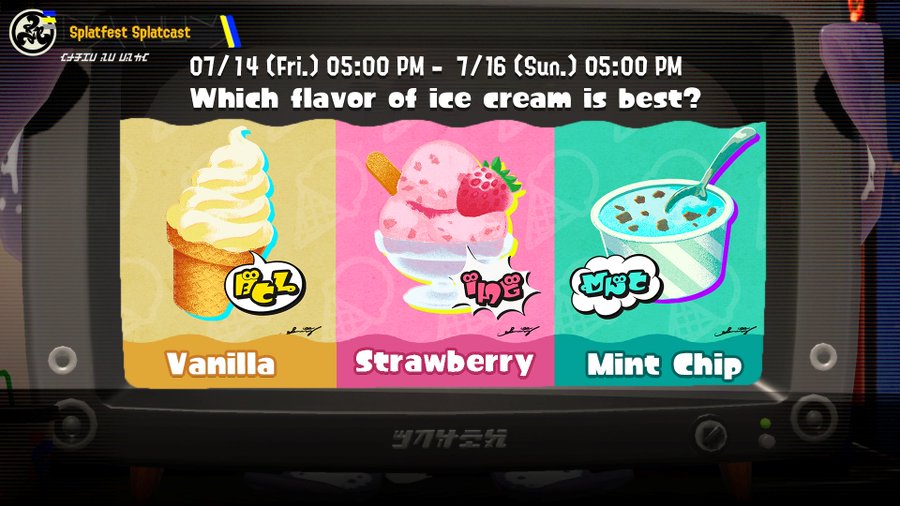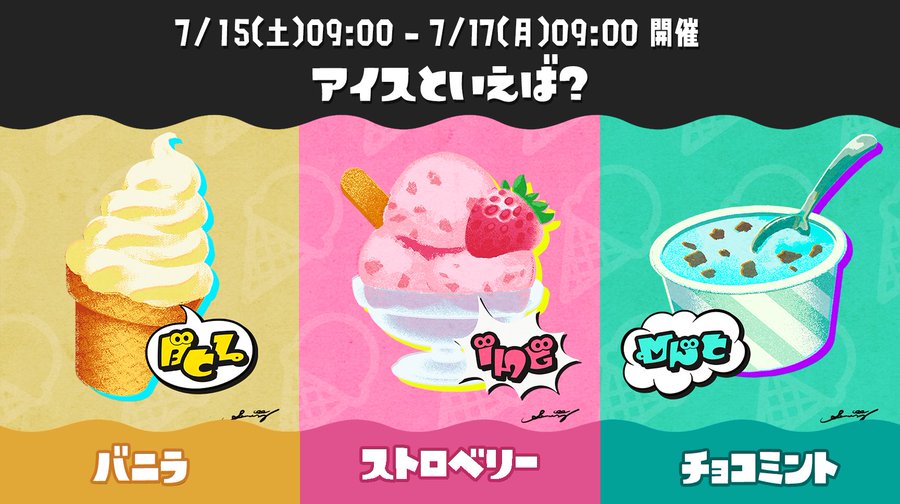 Splatoon x Zelda

Which do you seek?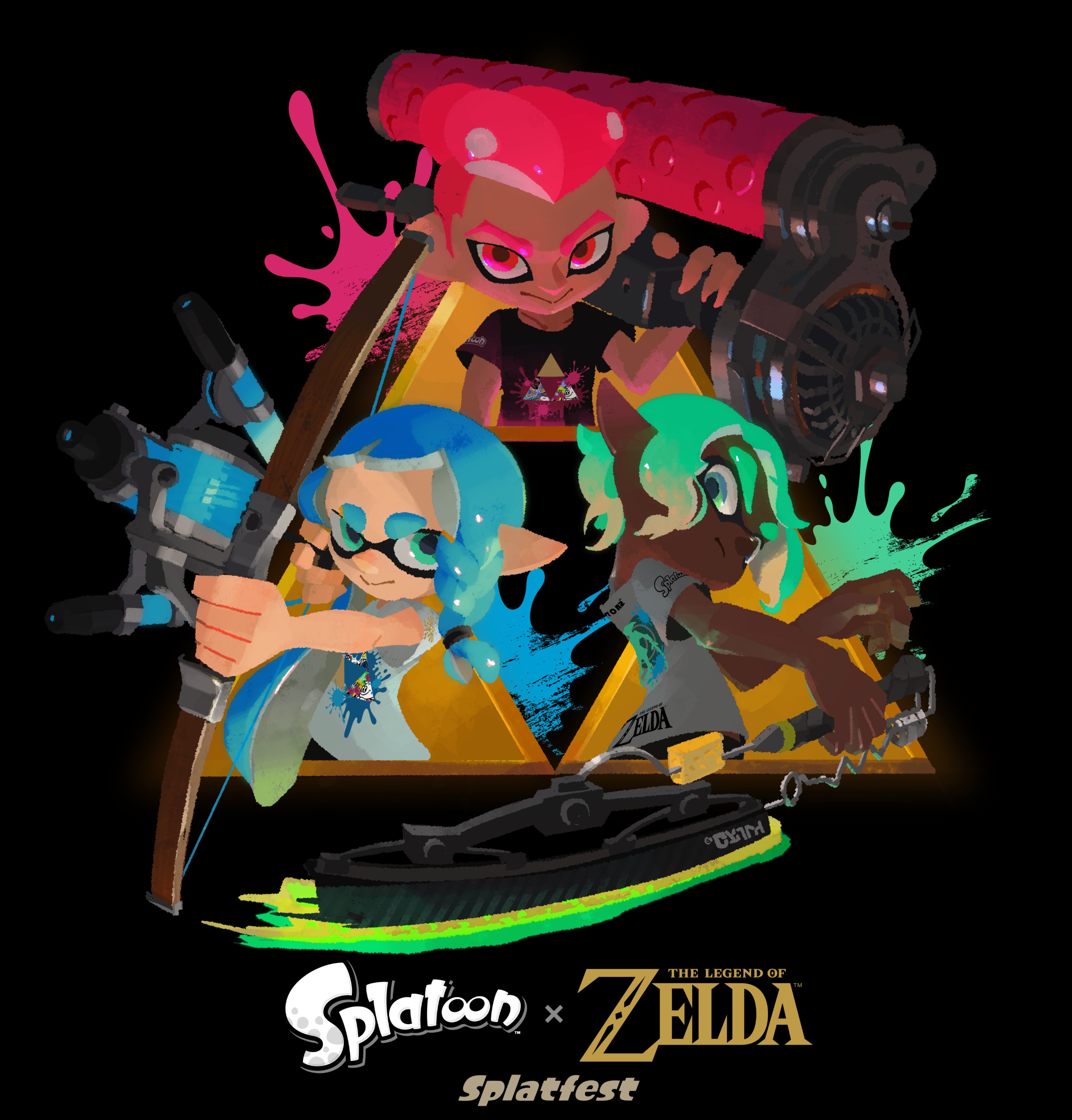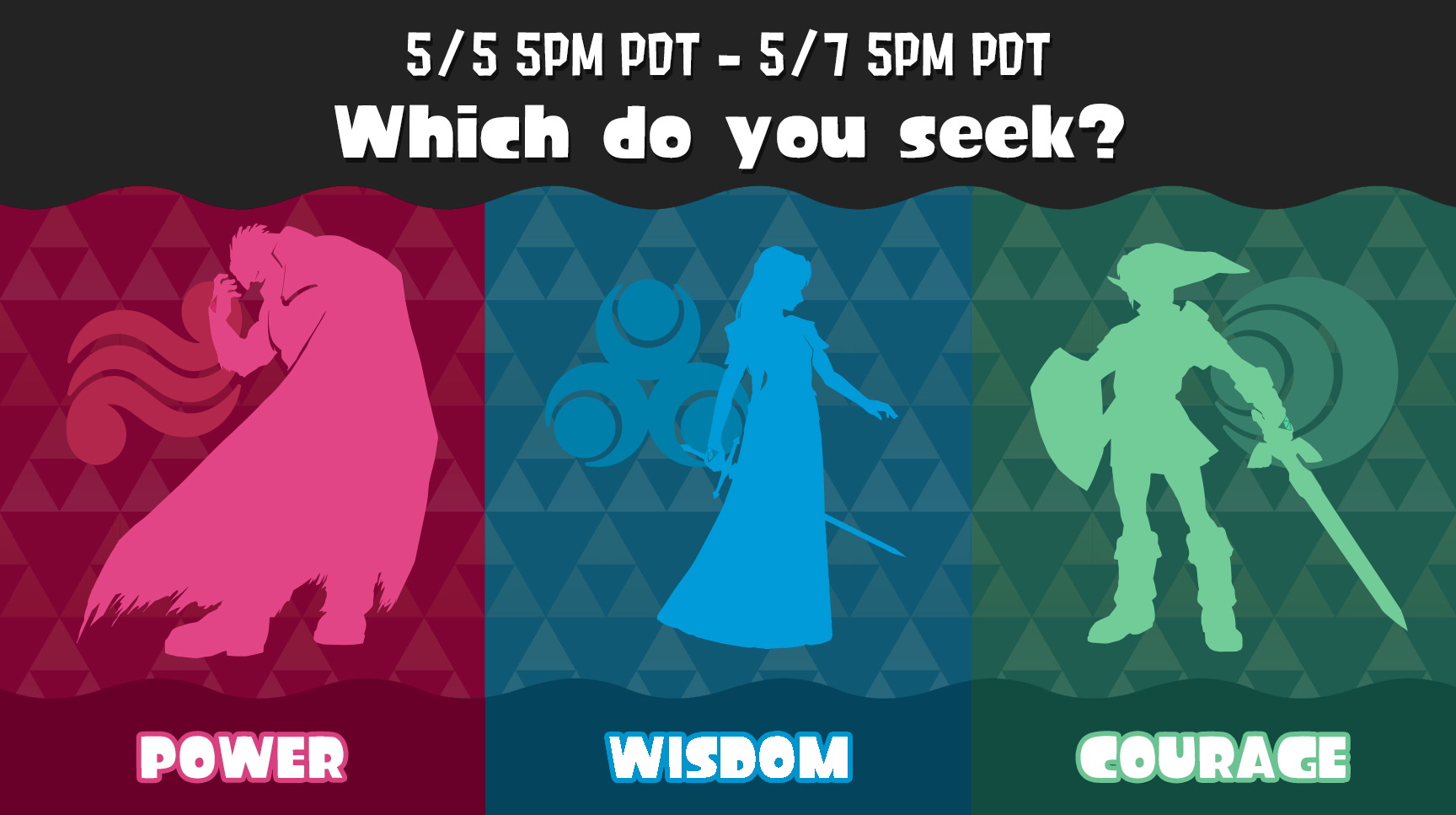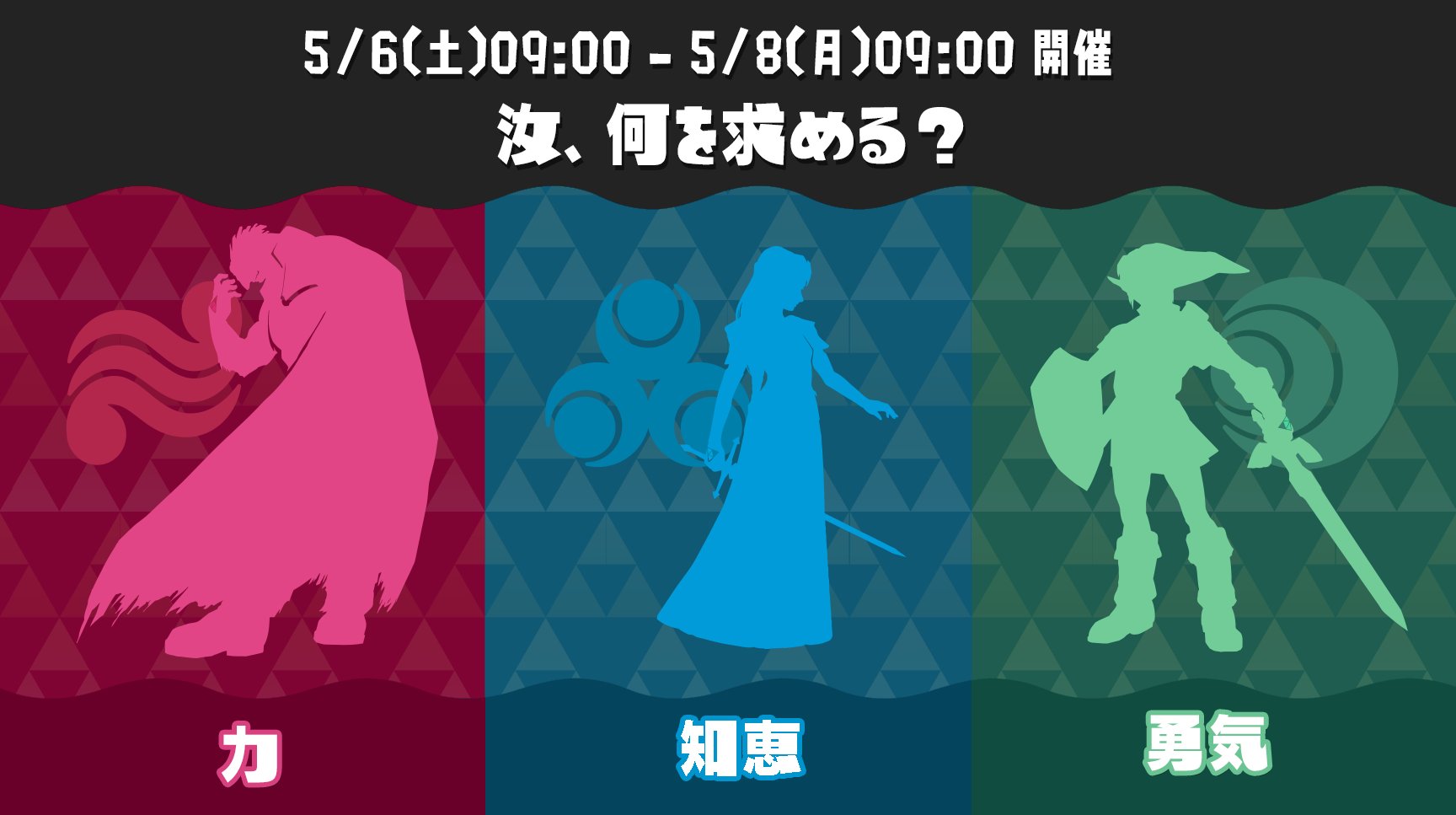 Big Run
2nd/3rd January - 5th/6th January. Same times as usual.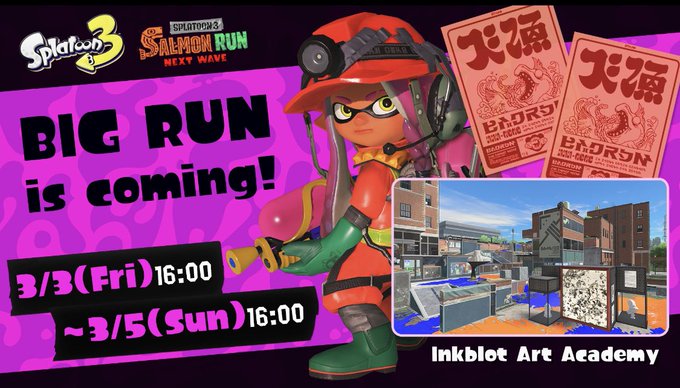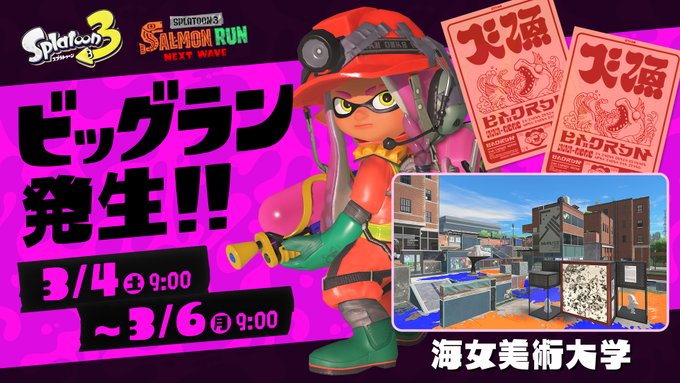 Splatfest
Which of these is real?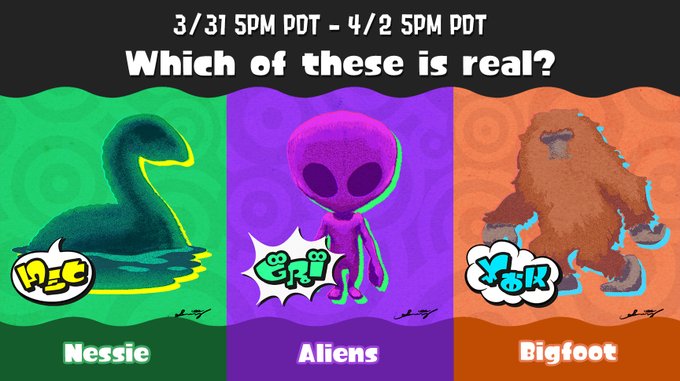 What's your favourite chocolate?
10th/11th January - 12th/13th January. Same times as usual.
What's your favourite taste sensation?
6th/7th January - 8th/9th January. Same times as usual.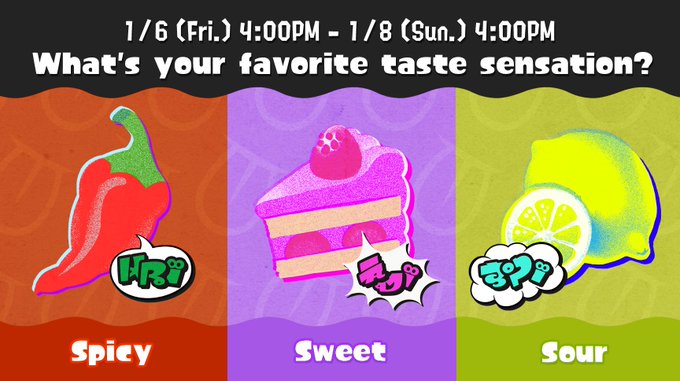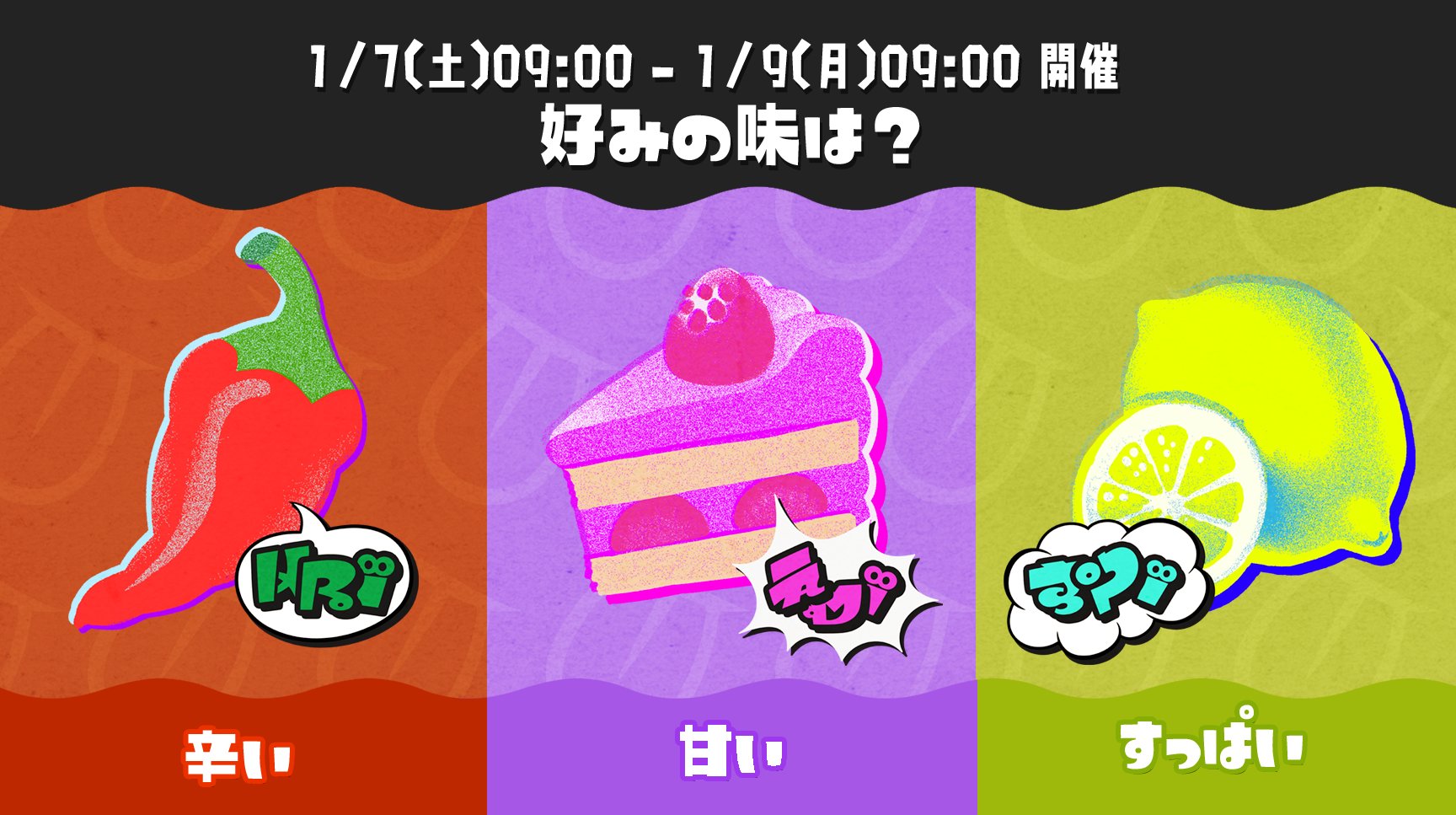 Big Run
A special Grizzco Salmon Run. Collect as many eggs as you can in a single match.
Splatoon x Pokémon
CONGRATULATIONS Team Water!
Region/Time Zone
Start Time
End Time
GMT (UK - DST over)
1 a.m. 12th
1 a.m. 14th
JST - Japan
9 a.m. 12th
9 a.m. 14th
America/PT
4 p.m. 11th
4 p.m. 13th
America/ET
7 p.m. 11th
7 p.m. 13th
Asia Pacific (Hong Kong, Taiwan, South Korea)
8 a.m. 12th (assumed)
8 a.m. 14th (assumed)
Australia/New Zealand -

AEST?- also need to account for DST?

10 a.m. 12th (assumed)
10 a.m. 14th (assumed)
Teams
:

Grass

(Shiver),

Fire

(Frye),

Water

(Big Man).
Translation: "Which type of starter would you choose?"

Note:
There was a 'Splatfest Sneak Peak' last Splatfest. As you can earn conch shells now, it seems it's happening this time too.
---
Deep Cut
Concert
and New Horizons DJ K.K. Paradise Mix!!
in Japanese only

9th October 6:30 p.m. JST (9:30 a.m. GMT/2 a.m. PT)
---
First Splatfest 11/12 (Fri.) – 11/14 (Mon.) - Results



Winner: Team Gear (Shiver)


CONGRATULATIONS Team Gear!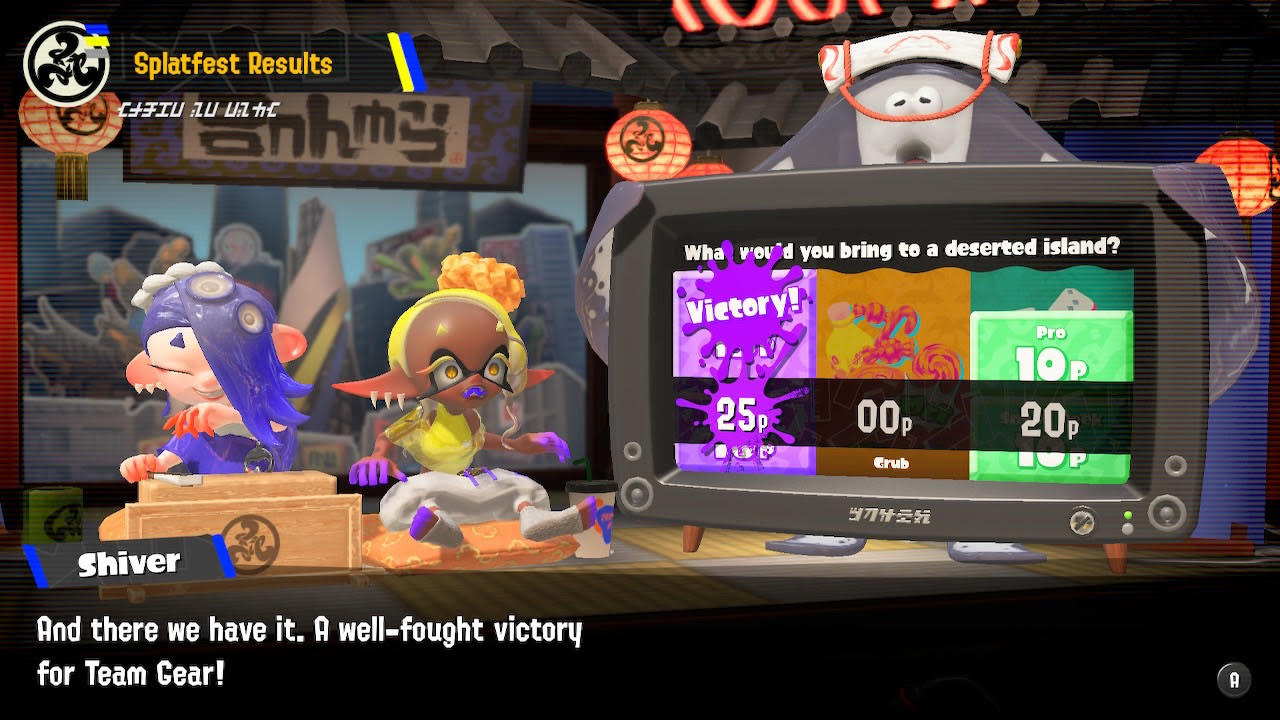 ---
First Splatfest 9/23 (Fri.) – 9/25 (Sun.)

Deserted Island
| | | |
| --- | --- | --- |
| Region/Time Zone | Start Time | End Time |
| The Americas/PT | 05:00pm 23rd | 05:00pm 25th |
| GMT | 00:00am 24th | 00:00am 26th |
| Hong Kong/Taiwan | 08:00am 24th | 08:00am 26th |
| Japan/JST | 09:00am 24th | 09:00am 26th |
| Australia/AEST | 10:00am 24th | 10:00am 26th |
Shamelessly stolen from
r/splatoon
.
Good luck!
Go Team
Shiver
!
Last edited: