As part of a
State of Unreal livestream
on April 5, Epic revealed the engine is now available to all, including new sample projects you can use to play around with. We also got another good look at what Unreal Engine 5 is capable of and heard from a variety of developers who touted the benefits of utilizing the engine. That even included the reveal that a new Tomb Raider game is on the way that will run on UE5.
Various games and genres are being built in Unreal 5 right now, ranging from licensed mobile titles to AAA blockbusters. We've gathered up all the confirmed titles below that are currently confirmed to utilize it, as well as a look at many of the studios who are lined up to do the same.
ArchAge II​
Not much is known about ArcheAge II yet, but developer XL Games did confirm that the upcoming Korean MMO is using Unreal Engine 5 technology to build the game. Elements of housing, naval warfare, and vehicles with physics simulation will all tie into a core design theme of freedom.
Ark II​
Studio Wildcard's sequel to the popular survival sandbox Ark is in the middle of development right now, utilizing Unreal 5 for its eventual and exclusive release on Xbox Series X|S. The multiplayer game will alsostar Fast 'n Furious actor Vin Diesel as the hero Santiago, with the Hollywood actor pulling a double shift as an executive producer on the game as well.
Ashes Of Creation​
Back in December, Ashes of Creation developer Intrepid Studios confirmed that it had migrated the game from Unreal 4 to Unreal 5. It's still early days for a project that is still in its alpha phase, but unlike many entries on this list, the studio behind the game has been transparent with development so far. To get an idea of how the game is shaping up, you can pay the
Ashes of Creation website
a visit to see the Unreal 5 improvements.
Black Myth: Wukong​
Revealed back in 2020, Black Myth: Wukong is easily one of the most exciting adaptations of the classic Journey to the West novel since Enslaved. Brimming with action and adventure, Unreal 5 has been used to deliver intense boss battles and impressive particle effects. The Dark Souls-inspired game from developer Game Science doesn't have a confirmed release date yet, but you can check out Black Myth: Wukong's first trailer for more information on what the game looks like so far.
Dragon Quest XII: The Flames of Fate​
While there wasn't much in the way of concrete detailswhen Dragon Quest XII: The Flames of Fate was announced last year, Square Enix did confirm that the next chapter in the long-running RPG series would be shaking up the franchise. With Unreal 5 powering a darker tale of swords and sorcery, Dragon Quest XII series creator Yuji Horii hinted at darker themes, more open-ended design, and impactful decisions that the player will be forced to make.
Dreamhouse: The Game​
While Unreal 5 is expected to be capable of creating epic and detailed worlds for games, the technology is also being used for titles with a cozier appeal. Take Dreamhouse for example, a house construction simulator coming to PC and console in the future. Using Unreal 5, you'll be able to build sturdy structures, set up comfortable living spaces, and eventually call it a day on next-gen beds. Unreal 5 is more than capable of creating impressive particle effects and life-like human characters, but a thread count you can see on gaming linen is what really counts.
Echoes Of The End​
Echoes of the End is described as a single-player RPG from Icelandic developer Myrkur Games, and takes place in a world of myth and legend. As the hero Ryn, it'll be up to you to guide the warrior through large-scale battles in a world that has been described as a blend of cinematic scope and rich narrative themes, all realized with Unreal 5 technology.
Fortnite​
Epic's signature game made a shift to Unreal Engine 5 with the start of Chapter 3 back in December. While the changes seen so far look like modest upgrades, expect the overall visual fidelity to steadily increase as time goes on as Epic improves on its Unreal 5 technology. Small changes eventually add up to something big, and Fortnite will likely continue to be a showcase for the versatility of Epic's software.
Game Of Thrones​
Currently in development at Netmarble, very little is known about this mobile Game of Thrones adaptation other than its usage of Unreal 5 for development. Netmarble has a history of producing solid adaptations of licensed properties for mobile devices, and the studio revealed that it planned to deliver console-level graphics while telling an original story in the fantasy world created by author George R.R. Martin.
ILL​
With a focus on mystery, exploration, and stomach-churning monster designs, Team Clout's ILL is using Unreal 5 to create a disturbing and spooky atmosphere. The devil is in the details, and while not much else is known about this survival-horror game, early previews indicate that Epic's technology is being used to create a uniquely terrifying experience.
Into The Echo​
Described as a unique time-travel MMORPG from developer ETLOK Studios, development on the game has been rocky as of late due to Russia's invasion of Ukraine. A new pre-alpha session was held recently, and if you'd like to see how Unreal 5 is shaping the visual development of this ambitious game, you can check out an official teaser for Into The Echo that showcases some rich visuals.
Legend Of Ymir​
A sequel to the Legend of Mir series, Korean developer WeMade Entertainment is making use of Epic's biggest Unreal 5 technologies--MetaHuman Creator, Lumen, and Nanite--to craft this MMORPG. Platforms and a release window have yet to be announced, but like Mir 4, you can expect NFT implementation that allows for your game character to be turned into a token for selling and trading.
Redfall​
Coming to PC and Xbox Series X|S in the future, Bethesda's Redfall is an action-adventure that uses Unreal 5 to craft a vampire-hunting experience. Playable in solo or co-op modes, details, and gameplay footage has been hard to come by since Redfall was announced at Microsoft's E3 2021 showcase. If a recent leak turns out to be genuine though, expect this game to use Epic's software to create a vibrant environment with loot-shooter mechanics.
Senua's Saga: Hellblade II​
Developer Ninja Theory has occasionally released some development information since Senua's Saga: Hellblade II was confirmed to be in development, and with Unreal 5 powering the sequel to the original Hellblade game, it's shaping up to look like a visual showcase for the technology. The first gameplay trailer was shown off at last year's Game Awards, while development has used a few strange techniques to get the game looking just right.
Stalker 2: Heart of Chornobyl​
A sequel that has been long-awaited, Stalker 2 continues to look like a fantastic return to the heart of the infamous Ukraine disaster zone. With the Russian invasion of Ukraine still ongoing though, plans to release the game later this year have naturally been upended as developer GSC Game World looks to find safety and shelter for its staff amidst attacks on the city of Kyiv. What has been seen so far, is a game that uses Unreal 5 to create a uniquely unsettling atmosphere, one that's dripping with grime, radioactive fallout, and European charm.
Quantum Error​
Another horror game utilizing Unreal 5, Quantum Error uses the technology to create stylish graphics and a terrifying atmosphere. It's the lighting that really sells the nightmarish visuals though, and with Unreal 5 capable of creating realistic and spooky illumination, Quantum Error's handle on horror looks immersive and eerie.
The Matrix Awakens​
A free showcase of the potential of Unreal 5 developed by Epic, The Matrix Awakens is a stunning showcase of playable action and exploration. It's available to try out now on PC, Xbox Series X|S, and PS5 and offers not only a brief highway chase scene that looks like it was ripped straight out of The Matrix Reloaded, but also a detailed breakdown of the various technologies within Unreal 5 and how they're used to create photo-realistic environments.
Untitled Layers Of Fear Game​
Paint and paranoia take the center stage in this return to Layers of Fear. Details on the next installment are vague, but with Unreal 5's ability to create realistic textures and unsettling environments, the end result could be a detailed dip into horror from a studio that has earned a reputation for being a master of that genre.
Untitled The Witcher Game​
In a surprising turn of events, CD Projekt Red announced a new Witcher game in March that would be built entirely in Unreal 5 instead of the company's internal REDengine. The Polish studio will collaborate with Epic's engineers to help make Unreal Engine 5 the best engine it can be for open-world games, with experience and knowledge from the development process informing the evolution of Unreal 5 for future projects.
Untitled RTS Game Developed By Frost Giant​
Founded by StarCraft 2 production director Tim Morten and Warcraft 3: The Frozen Throne lead campaign designer Tim Campbell, Frost Giant's first game has been teased as a dream project that won't simply be a throwback to classic real-time strategy. The studio has kept details under wrap for its in-development game, but it has let slip that it'll be developing the RTS on Unreal 5 and that it's designed to be more approachable for newcomers to the genre.
Untitled Gears of War Game​
It'll still be a while before a new game in the Gears of War series is properly unveiled, but for now, developer The Coalition appears to have a firm grip on using Unreal 5 to create the title. During a presentation at GDC 2021, The Coalition revealed its first technical demo Alpha Point using the latest tools in Unreal Engine 5, which included application of the Lumen lighting system and Nanite, the engine's virtualized geometry system. In addition to that, the studio also showed off a character render demo within Unreal Engine 5, that was packed with all manner of small details.
The Next Tomb Raider​
Crystal Dynamics has confirmed a new Tomb Raider is in the works. There were no details shared on what to expect from it, but the studio will be moving to Unreal Engine 5 for the project.
And Much More​
A State of Unreal stream on April 5, 2022 highlighted the many studios who are working with UE5. In addition to all of the games outlined above, you can check out the image above for even more names and brands leveraging UE5 in some capacity.
Here's a look at every game currently using Epic's Unreal 5 technology to create the next generation of entertainment.
www.gamespot.com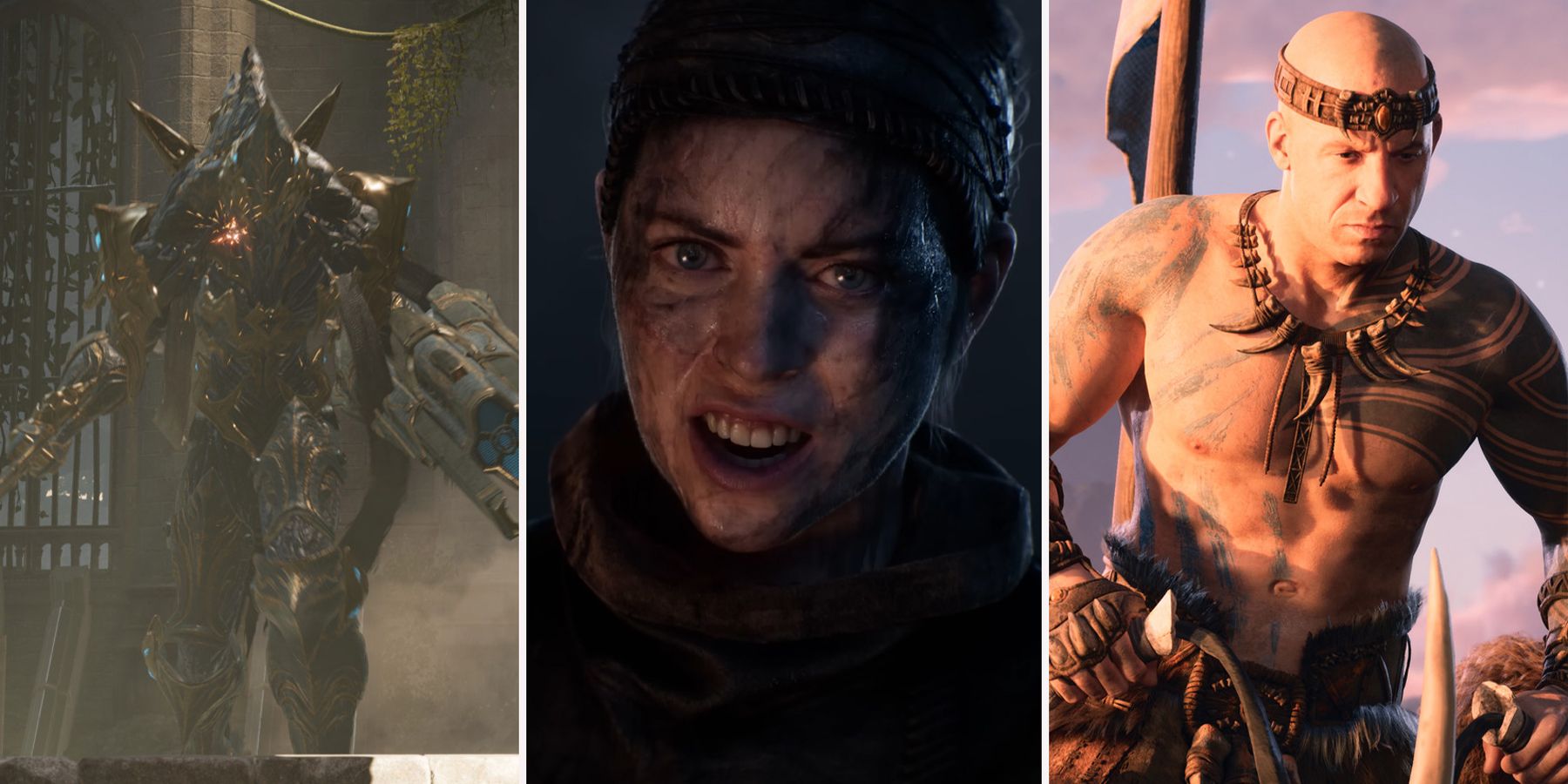 Unreal Engine 5 is the latest version of Epic Games' creation platform, and several upcoming games are confirmed to utilize it.
gamerant.com
Last edited: