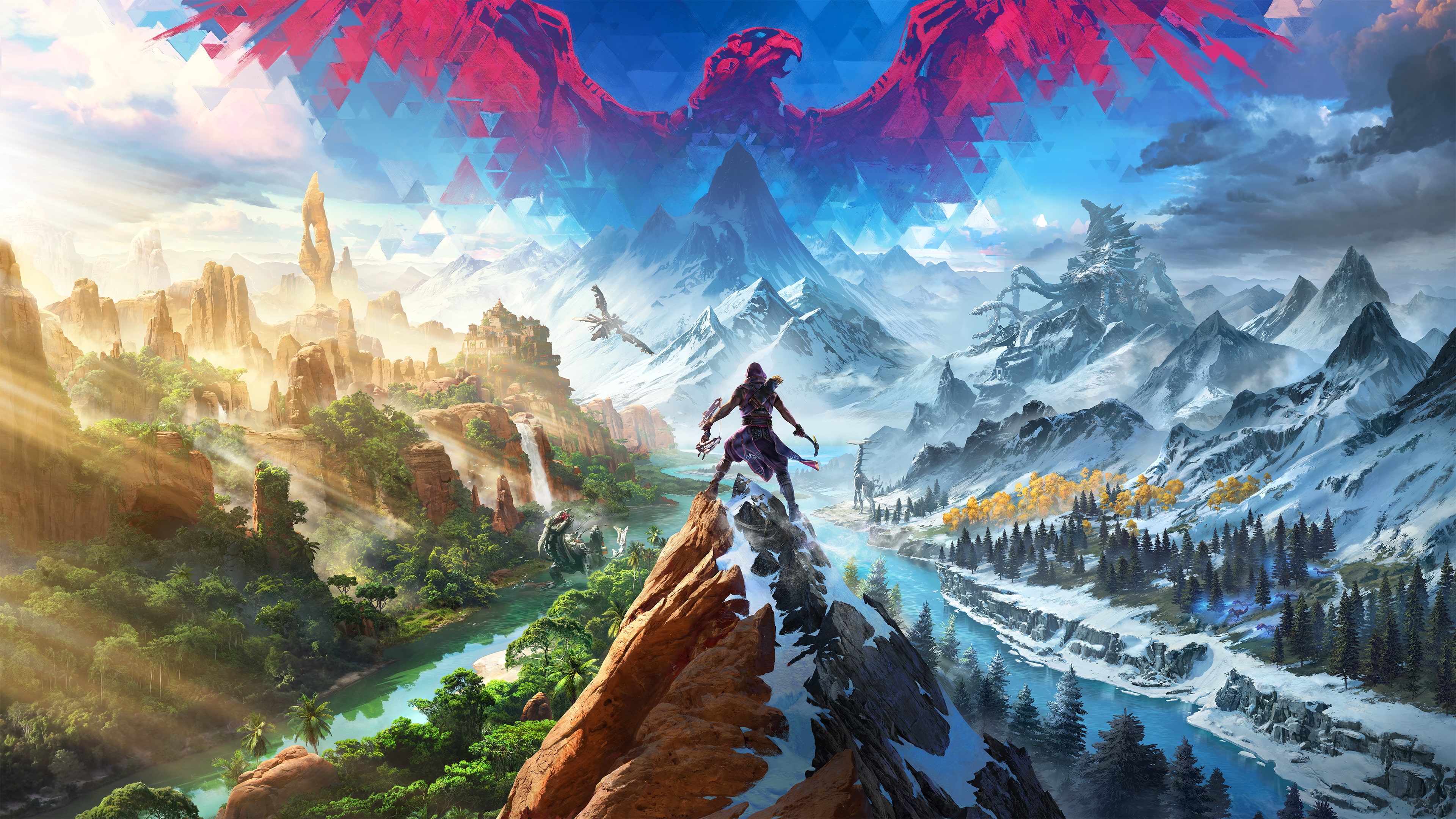 ---
Game Information:

Game Title
: Horizon Call of The Mountain
Genre
: Action-adventure, role-playing, open-world, post-post-apocalyptic, bow-and-arrow, VR
Platforms
:
PlayStation 5, PlayStation VR2
Media
:
Developer
: Guerilla Games
Info
Developers' HQ
: Amsterdam, Netherlands
Publisher
: Sony Interactive Entertainment
Price
:
PS5 Standard - $59.99 USD / £59.99 GBP / €69,99 EUR / $79.99 CAD
PSVR2 Bundle - $599.99 / £699.99 GBP / €669,99 EUR / $779.99 CAD
Release Date
: February 16, 2023 (Game)
More Info
:
r/Horizon
|
Guerrila Website
Review Aggregator
:
Opencritic
- 81/100
---
MetaCritic
- 79/100 [PS5] [PSVR2] - 41 Reviews
---
Critic Reviews:

Review Aggregator
:
MetaCritic
- 79/100 [PS5] [PSVR2] - 34 Reviews
Critic Reviews:
Telegraph
- 100/100
Each new locale is seemingly more rich and detailed than the last, and I regularly felt compelled to stop looking for the next path forward and instead just take in the magical realism of my surroundings.
GamingTrend - 100/100
Sony needed a system-seller for their PlayStation VR2, and Horizon: Call of the Mountain is it. Scale, interactivity, haptics, and satisfying combat that matches the main games makes for a must-have for anyone picking up Sony's newest hardware.
PlayStation Universe - 90/100
Despite its linear nature, Horizon Call of the Mountain remains a truly stellar showcase of the PSVR2's capabilities. From the retina-searing 4K HDR visuals that are generously bleeding with detail and fidelity, through to the deft use of haptic feedback and adaptive triggers in the PSVR2 Sense controllers which ensure that players are utterly immersed in the climbing, exploration and combat within its world, Horizon Call of the Mountain is a highly enjoyable action adventure that fans of both the series and great VR games in general can effortlessly enjoy.
GamesRadar+ - 90/100
Horizon Call of the Mountain is a touch of magic, bringing the Horizon world to life in first person on PSVR 2. It's stunning, captivating, and never loses sight of what made Horizon Zero Dawn and Horizon Forbidden West so special.
EuroGamer Poland - 90/100
Horizon Call of the Mountain is not only a showcase of PS VR2 capabilities, but also a great adventure. Open world of this well-known brand has been transferred to virtual reality in a successful and highly imaginative way.
Road to VR - 85/100
Horizon Call of the Mountain takes players on a fun adventure throughout a breathtaking world, showcasing some of the best graphics you'll find anywhere in VR. Beyond the epic vistas, the game's smaller details—like rich foliage, an array of climbing gadgets, and interactive props—make Call of the Mountain a very immersive game. It's a joy to see the sci-fi beasts of the Horizon world up close in VR, and their excellent animations and sound effects make them thoroughly believable. While combat could be a bit more fluid and climbing could have more interesting challenges, as a whole the game offers up a satisfying dose of VR native gameplay. Beyond the great environmental art, Call of the Mountain's characters are also impressively rendered, though unfortunately they're not involved or developed enough to make them memorable.
HobbyConsolas - 82/100
Horizon Call of the Mountain is the first major PS VR2 exclusive, and it does its job to show off the possibilities of the new headset, from the spectacular, crisp graphics to the new controller functions. It especially shines in combat against the machines, although at times it feels a somewhat corseted experience.
Dexerto - 80/100
Horizon: Call of the Mountain does not move any proverbial mountains, but it remains a strong technical showcase for what the PlayStation VR2 can do. In a world where AAA VR titles don't appear too often, it's in an exclusive club of unmissable VR experiences that you should definitely pick up.
IGN - 70/100
Horizon Call of the Mountain's exciting highs elevate it just enough above its often monotonous climbing mechanics to create a fun first blockbuster entry into the PS VR 2 library.
Gamespot - 70/100
The first foray into virtual reality for Guerrilla's beloved franchise is a big success, even if it doesn't do anything new.
Metro GameCentral - 60/100
An effective tech demo but it struggles to be anything else, not least because for the majority of the time it's just a fairly vanilla climbing simulator.
Last edited by a moderator: