*disclaimer: i apologize for the gleeful potty humor i'm about to engage in


Pray ye to listen to my tale of adventure and heroism in the face of grave danger...
​
I've committed a horrible crime. A couple of weeks ago I took the ol' Shinkansen up to Tokyo for a month of bidniss, and I've been staying in a nice sharehouse with nice share mates and plenty of personal space.
This house has everything, including - stuck to a wall in the communal space - a giant TV which appears to be made of a reasonably thick card. One thing there is
not
a surplus of, however, is
toilets.
There's only one can for the 4 rooms on the top floor, which means that on occasion I've had to go through the awful experience of breathing someone's fecal residue when mounting the throne shortly after their vacating it. This is of course a most serious trial for any soul.
Well I
pity the fool
who steps into that hallowed space after my most recent pilgrimage!
I laid down a fetid stink
. I'm not even sure where it came from - I've not eaten anything that constituted
week old rabbit carcass
baked in
road tar
in
at least
a week - so I've reported the occurrence to the Vatican as a possible case of
inadvertent exorcism
...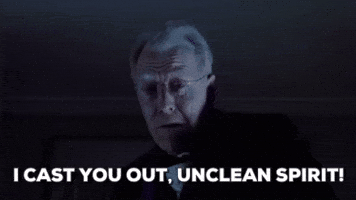 As I sat penitent on the altar, I heard the unmistakable sound of one house mate or another shuffling around outside the door... Sweat broke out on my forehead - I doubt these early- to mid-20s housemates of mine are ready to learn of the implications of a fully matured gut biome without losing their grip on sanity - and although they seemed to quickly turn tail at the gases seeping from beneath the door panel, I started casting around the room for some kind of deodorizer to hopefully mask some small measure of my crimes... Lo! A can of room scent! Fie! It's empty!
... Ah! But what's this I see? ​
An old bottle of 'room essence', the kind of product that you just leave in a room in the hope that it might generate a sainted miasma to counteract all demonic incursions (yes, I've been playing Diablo 2 Resurrected today) I pick it up. I give it a shake. I sniff, then quickly re-stuff my socks into my nostrils, disappointed that shaking it is clearly not enough to release any scent... I notice that there is in fact some kind of liquid within the essence vestibule so in a last ditch attempt at saving the world from this foul invasion I upended the entire thing and cackled in manic glee as a cascade of oily black scented black oil filled the bowl and liberally splattered the seat for good measure. Carefully replacing the room deodorizer back on the shelf, I took my tally of flushes to 5 and carefully mopped up, scrubbed, burnt and sent away all evidence of my deeds this day.
....perhaps i'm insane, but i swear my sweater still radiates the pong..
Anyway enough of that,
Have you ever gone through the public embarrassment of advertising your inner stench in a most ungodly manner?
- Public Flatulence
- Gutsy Burping
- Poorly Located Bowl Movement
- More arcane arts than even I can imagine...


CONFESS YOUR SINS!
​
Last edited: