The reviews for this game have started coming out:
PS4 Version

Atelier Ryza: Ever Darkness & the Secret Hideout for PlayStation 4 game reviews & Metacritic score: The beautiful role-playing game follows the exploits of teenage tomboy Ryza, who dreams of escaping her mundane village lifestyle, alongside her band of mischie...
www.metacritic.com
Video Chums

91

"With so many JRPGs remaining stagnant or trying to appeal to the masses, Atelier Ryza stands tall amongst its peers as a truly amazing experience. Whether you're a fan of the series or just a JRPG enthusiast, you need to play this masterpiece. "
Everyeye.it

85

"The eternal darkness of recent episodes now seems destined to give way to a radiant and exciting future. "
Vandal

78

"It finally feels like Atelier is making a solid effort to evolve the series. It's still far from the big RPGs, but it's a step in the right direction and, also, a good entry to discover the series. "
Frontline

75

"Atelier Ryza is a short and sweet RPG, ideal for players who are not used to RPGs, or want to try out an Atelier game for the first time. People who are interested in the setting will also not be disappointed. Series fans, however, might find the experience to be somewhat lacking due to its short length and simpler synthesis system. "
PlayStation Universe

65

"Atelier Ryza: Ever Darkness & the Secret Hideout makes some fundamental changes to the core mechanics that may get under the skin of long-time fans but are welcome for those looking to jump into the franchise for the first time. "
Switch version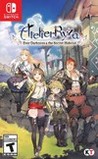 Atelier Ryza: Ever Darkness & the Secret Hideout for Switch game reviews & Metacritic score: Even though everyone has them, the memories we create with our friends are special to each and every one of us. The story of "Atelier Ryza" is about a girl a...
www.metacritic.com
Digitally Downloaded

100

"What is important is that I came away from this game very happy. It's a joy to play, the overall experience is video game comfort food, and I don't think I'll ever get bored with the way Gust approaches the alchemy systems with the same sense of experimental creativity as the alchemy in the game itself. "
TheSixthAxis

90

"Atelier Ryza: Ever Darkness & the Secret Hideout reinvents the wheel on a series that felt like it was beginning to grow stagnant. Fresh combat and an engaging new protagonist help this entry usher in a remarkable new era for the long-running Atelier series, and other improvements like great Switch performance and gorgeous music are just icing on the cake. I never thought that Atelier Sophie could be out-done, but Atelier Ryza has thoroughly made the case to be my new favorite game in the series. "
Nintenderos

87

"Atelier Ryza is a revolution for the series with a completely new combat and synthesis system, as well as an original story about what it means to mature. Its slow pace and repetitiveness are not for everyone, but it is the perfect title for those who want to start playing the franchise. "
God is a Geek

85

"Atelier Ryza: Ever Darkness & the Secret Hideout on Nintendo Switch is a fantastic conversion. "
RPG Site

80

"While I may have enjoyed Atelier Lulua more, that title comes with three other games' worth of baggage to deal with. Atelier Ryza is a fresh start, and a perfect title to jump right into the series with. "
Nintendo Life

80

"Atelier Ryza lifts the series to new heights with a reinvigorated, newcomer-friendly alchemy system and an excellent combat overhaul. The new graphics engine looks glorious and runs beautifully on Nintendo's console, the story is thoughtfully paced and heartfelt and the traditionally slow early hours do a fantastic job of detailing Ryza's journey from complete beginner to master alchemist. Gust has done a brilliant job of taking this long-running franchise and making it appeal to the mainstream more than ever here and, if you've ever been tempted to give the world of Atelier a try, this is a perfect jumping-on point. "
Video Reviews
Last edited: