I just finished playing through It Takes Two with honey bae sweetie pie over about a week of cackling nights on the new PS5. And my girl liked it so much that she insisted I review it, or do some kinda write-up about it, so here goes.
It Takes Two is a constantly morphing co-op game which takes the best parts of series like Crash Bandicoot, the Mario Party games, and countless others, and adapts them into an increasingly mind-blowing adventure after a generous campaign which took us, well, about a week of cackling 4-hour nights as I've already mentioned.

graphics are better (read: really great) or worse in different ways, but the game is consistently supremely touching
​
A troubled couple is on the verge of divorce and are infuriatingly wooden to the pain it's putting on their daughter, who grabs two clumsy kid-dolls of her parents, hides under a table in the mum's neglected workshop shed, and tearfully begs a "Book of Love" by one Dr Hakim to help her save their marriage. Very feels. Nekminit, the parents have been shifted by the power of her tears into the bodies of these two dolls, Dr Hakim is a zaney mexican (?) marriage councillor book with paper arms and legs who gleefully and often hilariously pushes them through a protracted process of making up.
reviewers unanimously say Hakim is annoying, but I think they're either joking or being really dense.. he's a great comic intelude, and his annoying personality is part of what drives the plot forward with such verve and energy. I liked Dr Hakim a ton.
​
How can I describe this game? There are multiple emotional dynamics going on concurrently - the daughter is trying to understand why her parents are variously sitting and laying down, comatose, for hours as she makes heart breakingly futile efforts to get through to them; the parents are juggling their contempt for one another with the need to cooperate and somehow pass the tests of the insane red book who keeps shaking its ass at them; the player is loving it, until they're asked to do something very uncomfortable (one particular scene had me doing something that wanted me to chuck my controller away), and it seems like it'll never end. There must be half a dozen moments where you think you're about to get to the daughter, only for a dead end to rear its head and force you down into a new, fantastic world.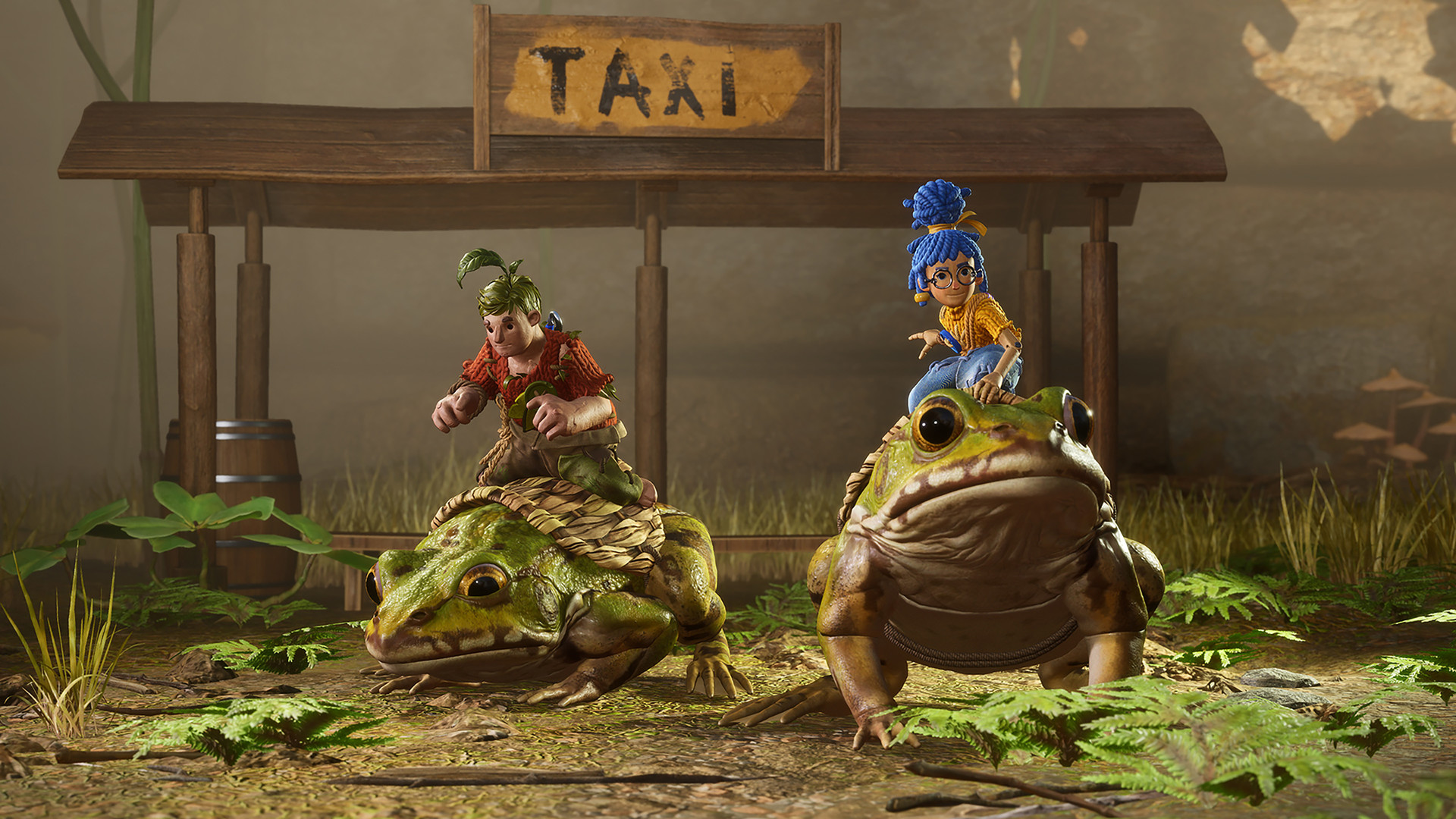 this part was fucking fun
​
And these worlds
are truly
fantastic. Hugely varied, extremely creative, with desceptively fine graphics and excellent exploration mechanics. You go from the aforementioned store house to the half-rotted innards of the garden tree, to the house proper, to who the fuck knows where... into space, into ice fields, into the actual garden, Borrowers/Arriety style, a million other places besides... It's insane and so fun.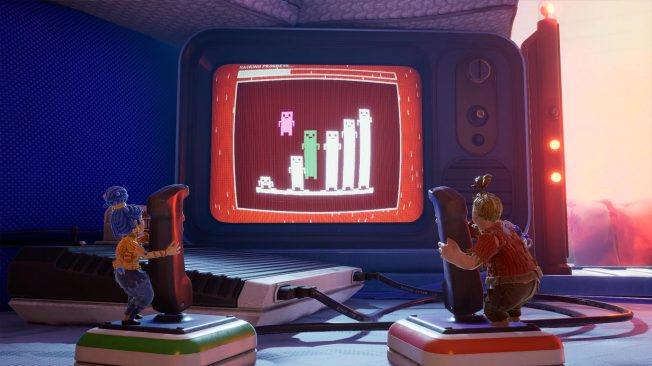 there are heaps of these game-within-a-game deals, and plenty of player-vs-player challenges scattered
around the map - my girl even beat me in one or two of them!
​
The variety of gameplay is incredible, you barely ever repeat anything beyond running, triple jumps and swinging skillchecks. Each level has one or more segments where your characters are given different tools - a boomerang-like symbol, guns, much else. Just discovering these tools causes you to laugh out loud in delight. They also take place in a huge variety of environments. There's even a fantastic level where you play a basic action RPG! Diablo style... The dad becomes a wizard the the wife a badass with a flaming 2H sword... And I'm not even sure that part's my favourite!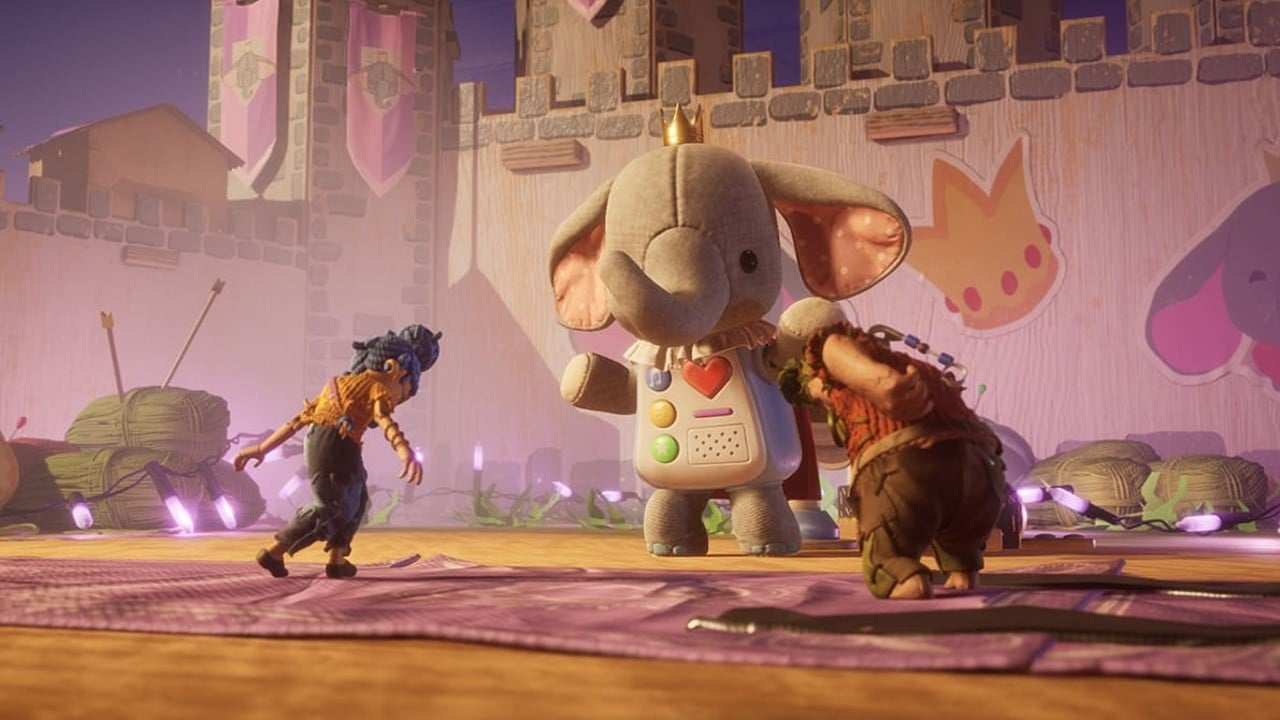 Super sweet queen elephant
​
All of the above exist outside of arguably the most engaging part of the whole experience - the co-op gameplay! It helps immesaurably if you're playing this with your partner, I must say, though any old buddy can work out fine I'm sure... The co-op is perfect, often a-symmetrical as one person needs to use the tools they've been given for this portion of the game to assist the other, or vice verse, or concurrently... In one portion the wife controls a giant robot that manipulates the environment so that the husband can move along it to eventually get to a progression switch... the real world communication required to get through these challenges is a joy...
I actually think this game is a fantastic gaming trainer
My girl had played some games before - legend of mana as a cool japanese teenage girl, later the simplistically controlled persona 4 golden, skillcheck mid-point sackboy - but this game taught her so many new gameplay concepts, she's totally level'd up by playing it! She now has a vague understanding of shooters, swinging systems, swimming, manipulating a third person camera with some kind of dexterity, side scrollers, timing jumps, running on balls, measuring jumps by holding the jump button for varying lengths of time, spacing out double- and triple-jumps, flight controls, puzzle solving, the playstion symbols, tank controls, and much more besides... Just watching her wrestle with controls and improving at them was a gameplay reward in itself! Hugely recommended.
RT creds confirmed
​
Anyway, maybe that's enough, I have been putting Kena up as my favourite 2021 game, and that may possibly still be true, but It Takes Two could very well be tied or even slightly above Kena now that I've played it - with, it's important to note, my girl.
(hopefully you all now know i have a girl, so that's settled then.)
ps. Credits reveal that the game was made mostly by, Danes? Or nordics of some description. So, yeah, another feather in their collective horn'd viking caps.
Last edited: