In the 2000s, Video Games were a big deal. We were entering a new generation at the turn of the new millennium, and the consoles that were hot at the moment were the PlayStation 2 from Sony, the sequel to the wildly successful PlayStation console. The Nintendo Gamecube from Nintendo, the company's fourth home gaming system after the Nintendo 64, and an industry newcomer, Microsoft and their Xbox, which took the industry by storm.
Gaming was becoming a big deal at this time, and the 6th generation was the first step to gaming being seen as a legitimate entertainment medium in the eyes of the public similar to film, or books, or music. With games and gaming culture being a powerhouse, a former Disney executive named Charles Hirschhorn saw potential in using a TV network and accompanying website to connect with video game fans. Hirschhorn wanted to do to video games, what MTV did for music, After a successful pitch, Hirschhorn's concept for a gaming channel was purchased by the cable company Comcast, and he was given a budget to develop a sort of "MTV for video games". And so G4: TV for gamers, was born.
The original format for G4 as mentioned, was modeled after that of the golden age of MTV. A lineup of personality-driven programing that showcased various video games and phenomena in gaming culture. From blocks of game-play footage meant to entice viewers to try new games, to tips and tricks on how to master the latest titles, and even delving into the history of franchises and moments in the gaming industry. And just like MTV, G4 was positioned at the same preteen through young adult audience of 12 to 34 year olds, particularly males who were the main consumers of video games at the time.
G4 officially launched on Comcast cable packages on April 24th, 2002, and after a marathon of Pong prior to launch, began with several original shows. Sweat, a series that focused on Sports games. Blister, which focused on Action games. Game On!, an on the road game show where two random people are plucked to compete in a video game challenge. Judgement Day, a spin-off of the Canadian pop culture variety series, Electric Playground (which G4 also picked up) that focused on reviewing video games. Players, which focused on the gaming habits of famous celebrities, and Cheat!, a strategy guide series on various video games.
G4 continued to trudge along, finding a niche with its intended audience of young gamers, but even with its unique style and concept, the channel still couldn't push past 15 million homes. The cost of producing programing was already increasing, and the network's low budget started taking a toll on the behind-the-scenes production of some of its own shows such as Arena (a competition show where players were mismanaged and unpaid by an incompetent producer). Comcast needed to do something to get its fledgling network to a wider audience.
While G4 was struggling to break into mainstream popularity, another cable channel was slowly gaining a cult following among geek culture.
TechTV, owned by Paul Allen's Vulcan, Inc. was a cable channel that became a fan favorite among tech enthusiasts. Originally launching as ZDTV, named after ZD Magazine, before adopting its new name in 2002, TechTV was similar to G4, but was focused more on technology as a whole rather than video games, and targeted a broader audience than G4's core demographic of middle schoolers. It's most notable shows were The Screen Savers, and Call for Help, both hosted by Leo Laporte, and X-Play, a comedic video game review series hosted by Adam Sessler and Morgan Webb. More importantly however, TechTV had more cable coverage, and had a much larger budget, two things G4 desperately needed, and fast. When Vulcan placed its television assets up for sale, Comcast submitted a bid to buy TechTV, and won in 2004. The plan was simple, merge TechTV with G4, inheriting TechTV's programing, personalities, and resorces, and inheriting the channel slot it had on DirectTV, which would open G4 up to 50 million homes.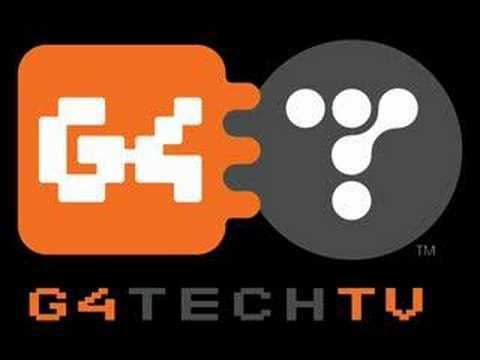 On May 28th, 2004, G4 and TechTV both became, G4techTV. At first, the combined channel was off to a promising start, successfully merging the broader tech and sci-fi focus of TechTV, with G4's youth-oriented presentation. But behind the scenes, the cracks were already beginning to show. Comcast closed TechTV's studios in San Fransisco, and forced all TechTV employees to "move to LA or you're fired". Production of TechTV holdovers such as The Screen Savers, and X-Play, moved to G4's LA studios. On top of this, many of TechTV's shows slowly began being cancelled, most notably Call for Help, which G4 executives felt wouldn't appeal to its younger audience, and Unscrewed with Martin Sargent, which pissed off a lot of TechTV fans. G4 even began cancelling some of its own shows, in order to reallocate the budget towards its most popular series, as well acquired series such as anime programing for another TechTV holdover, Anime Unleashed.
By the end of the year, G4 had finally broke into over 50 million homes, and now had a much larger audience and more money to work with, thanks to improved advertiser adoption. However, it did so, at the expense of an entirely unrelated cable channel and its fans. In 2005, now that the network had become more "G4" than "TechTV", the TechTV name was officially dropped, reverting the channel back to its original name as simply G4. Around the same time, the channel adopted a broader focus on geek culture as opposed to just video games and tech. In September, Hirschhorn stepped down as G4's president, being replaced by Neil Ties. Right out of the gate, Ties brought a ton of changes to G4. First by re-orienting the channel's audience towards a more narrow demographic of 18 to 34 year old men, instead of the youth audience it originally targeted. Second, by significantly de-emphasizing the gaming aspect of G4, saying "guys like to play games, but not necessarily watch a bunch of shows with games on the screen".
By this point, X-Play, and The Screen Savers, now known as Attack of the Show!, were the only two remaining series from the TechTV era running. The channel increased its developments in original and acquired shows, aimed at its new audience of 18-34 year old men. In 2006, Comcast consolidated all its west-coast cable channels including E!, G4, and Style, under a single management umbrella led by Ted Harbert. As a result, G4 moved its operations to E!'s studios in LA. By this point G4 hardly resembled its original purpose. What was once a scrappy little channel aimed at fans of video games, was now a more mainstream, male-oriented mess that played endless Cops and Cheaters reruns. There were a few bright spots however. The network served as the home for several Japanese game shows such as Ninja Warrior (which had blossomed into a juggernaut franchise), as well as Unbeatable Banzuke. There were also attempts at adult animation such as SpaceBalls, based on the cult classic Star Wars parody, and Code Monkeys, an 8-bit style workpace comedy about the gaming industry.
In 2009, G4 announced plans to scale back on original programing. X-Play was reduced to 3 nights a week, and many shows such as Code Monkeys were cancelled. In the process, many employees working on X-Play and Attack of the Show! were also laid-off. On November 10th, 2010, it was announced that Direct TV was dropping G4 from its cable services due to declining ratings and interest. All this work to get that spot on Direct TV, only to loose it in the end. in 2012, Comcast purchased the media conglomerate NBCUniversal from General Electric, and oversight of G4, along with Comcast's other cable networks, were transferred to NBC's cable unit. As a result, Neil Ties stepped down as G4 president, and NBCUni installed Adam Stotsky. The same year, it was announced that X-Play and Attack of the Show!, G4's last remaining original productions, would both conclude at the end of the year.
In 2012, NBCUni signed a deal with Heart Corp, who publishes Esquire Magazine, to rebrand G4 as the Esquire Network. The proposed network would be aimed at a more mainstream male audience than whatever frat-boy demo G4 was trying to target at this point, and would feature very little of G4's original aesthetic. However, because of G4's low ratings and coverage, NBC opted to rebrand Style Network as Esquire instead.
For the next 2 years, G4 essentially entered zombie mode, with its entire schedule consisting of nothing but reruns of acquired series and cancelled originals. In 2014, it was announced that NBCUniversal would shut-down all G4 operations, with whatever remaining staff being shuffled over the company's other cable channels. The final days of G4 consisted of a marathon of the 100 greatest games of all time, and concluded with the debut episode of X-Play, followed by a marathon of Pong, which the network used in its pre-launch in 2002, fading into the background and disappearing. And that was the end of G4....
UNTIL 2020, when a mysterious teaser was uploaded to YouTube during Comic-Con. The mystery trailer "We never stopped playing" confimed that G4 was back! Later in November, a reunion special was aired on SyFy and uploaded to YouTube, which reassembled many of G4's older personalities discussing the history of the network, and its shows. The network officially relaunched on October 12, 2021. The new version of G4 is now owned by Comcast's Spectacor division, rather than NBCUniversal, and is a sort of back-to-basics reboot, as a channel made by gamers, for gamers, not the poor-man's Spike TV it became towards the end of its run. The new G4 features new versions of X-Play and Attack of the Show! as well as new original and acquired shows, such as videos from the popular YouTube Content Creator, ScottTheWoz.
While there may not be much of a point to G4 these days, it's hard to deny that it was instrumental in helping to bring gaming to a wider audience. For all its faults over the years, G4 finally achieved what it set out to do, be the MTV for video games, both the good and bad. G4 was one of my favorite channels as a kid, and I will always respect it for helping to fuel my childhood obsession with the medium of Video Games.
Last edited: